Welcome to Coach with Purpose
six-week online program
Create the Purpose-Driven Coaching Program of your dreams and get compensated for leaving a powerful impact on your Dream Clients
you've been perfecting your talent as a creative and having been yearning to share the information and talent you have with the world,


you've been wanting to get into the coaching industry, but just don't know where to start,


you're terrified to step into the leadership position of a coach, because you don't feel like you have the experience,


that even if you were experienced, you don't feel worthy enough to get compensated for your coaching services,


and that you don't have the right strategy and methods to leave an impact on the clients of your dreams.
you wish you had the confidence to move forward in starting you coaching career
you wish you had a gameplan in setting up your coaching program
you wish you had a step-by-step roadmap to setting up your systems to operate your coaching business
you wish you had a mentor to guide you through your creation process
how do i know all of this?
because i was you!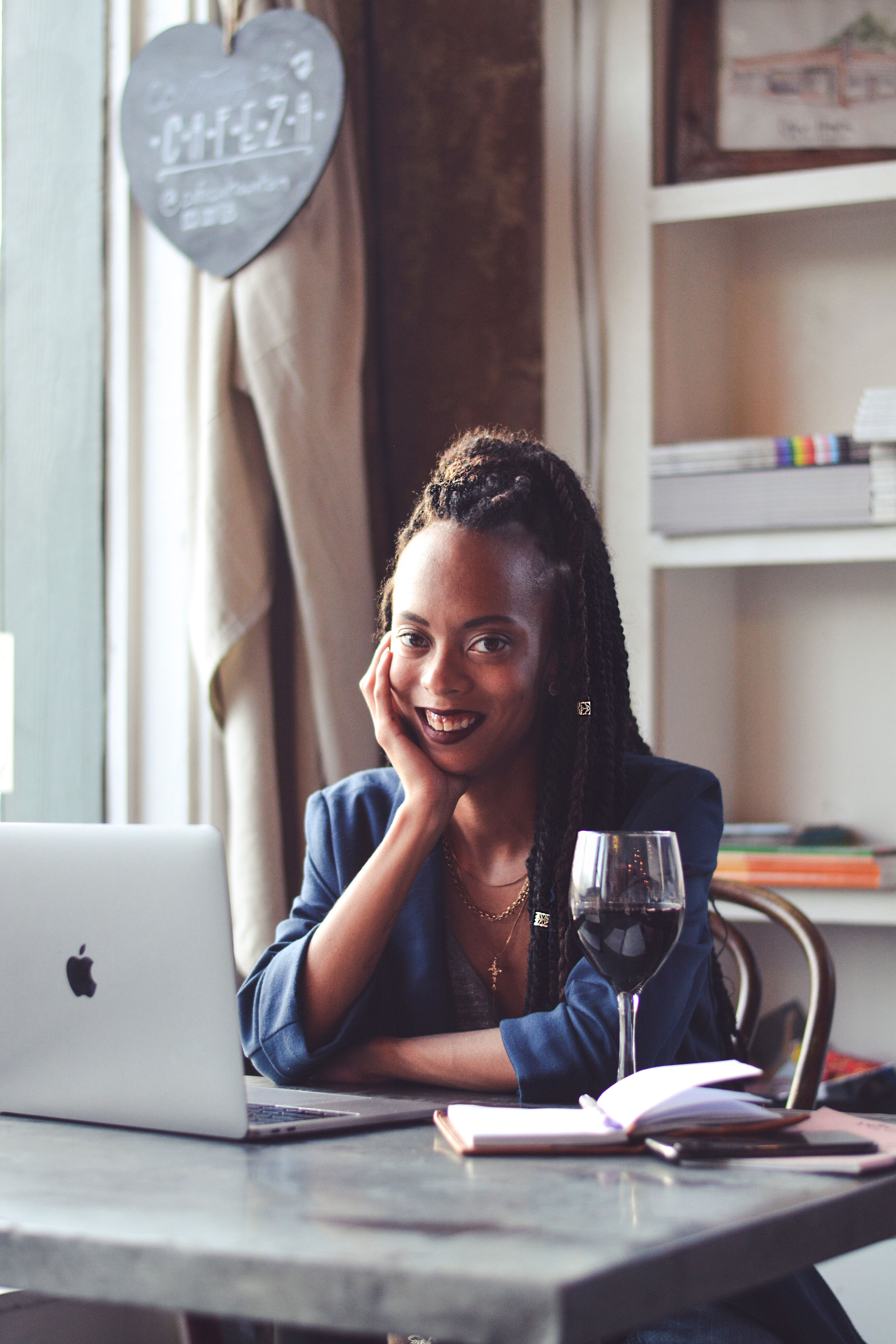 hello my lovely human, you can call me vee.
i went from homeless with my family and hopeless, to calling in five-figures in a matter of 30 days of launching my business.
before then?
i was depressed, unfulfilled, and completely cracking under the pressure of trying to be something i wasn't.
my first business had failed, and the team i built crumbled underneath me.
and the moment i realized i was completely unaligned from my purpose in the Universe
i made the conscious decision to only move in alignment and ease.
the Universe brought me into the world of coaching and i've never looked back.
in less than five months of making that decision, i was able to:
self-publish my first book of poetry
plan and execute a sold-out book signing & concert
sell out all of the physical copies of the book
call in a dream client for my brand consulting businesses
create four additional revenue streams of income
get booked for speaking engagements at various non-profits, colleges, and organizations
launch a podcast that creates a platform for millennial creatives
call in my first five-figure month in revenue in my business
i went from homeless and hopeless, to changing the lives of hundreds of people every single day.
and if i can do it,
so can you!
What you'll find inside this course:
6 X high quality video modules, worksheets, and scripts ($3600 value)
6 X 60-minute group coaching calls with vp wright ($1000 value)
exclusive access to the Coach with Purpose Facebook group ($1000 value)
lifetime access to the course and it's updates (priceless)
total value: $5600+
total investment: $444
(that's $10.50 a day for six weeks!)
Wanna go VIP?
includes the standard package as well as:
two (2) 1:1 60-minute coaching calls with vp wright ($700 value)
24/7 access through via Voxer for additional support during the duration of the course. ($1000 value)
total value: $7300+
total investment: $888
(that's $21 dollars a day!)
by the end of this course, you will have built the coaching program of your dreams, and created an opportunity to call in the dream clients who have been waiting on you to receive them.
Frequently Asked Questions
q: i have a full-time job. will i have time for this coaching program?
a: my lovely human, if i'm willing to commit to you and get help get you where you need to be, then you can absolutely block off a few hours to invest in yourself in grow as a creative entrepreneur.
q: will this program work for me?
a: the methods taught in this coaching program have helped various clients of vp's make huge shifts in their business, increase their following, and scale their revenue to six-figures. if you are a creative entrepreneur who wants to build your own coaching program, be surrounded by like-minded creatives, and thrives in group settings, then this program will absolutely work for you.
q: do you offer refunds?
a: due to the nature of my program, i do not offer refunds once the first payment is made.
i only work with committed, dedicated creatives who aren't looking for a way out or an excuse to stop creating with purpose and building the business of their dreams. i am here to turn your passion into a purpose-led business. when you pay, you are committing to this program, and when you do that, i commit to you.
i only commit to creatives i know are all in and ready to truly do what it takes to grow and go in their business, which means there's no looking for a way out!
q: i've got a question that hasn't been answered. can you help me?
a: of course i can help you! send it through to [email protected] and i will respond within 24 hours. i've got you and want to make sure you are supported fully as you make the decision to invest in yourself in this program